Speed Recovery, Increase Protein Synthesis,Promotes Lean Muscle Growth, Muscle & Tissue Repair, Enhanced Performance, Boost immune System.
BullyFIT Finish Strong BCAA (HoneyDoo Watermelon Flavor)
Regular price
Sale price
$38.00 USD
Unit price
per
Sale
Sold out
Share
View full details
BullyFit All Natural Pet Products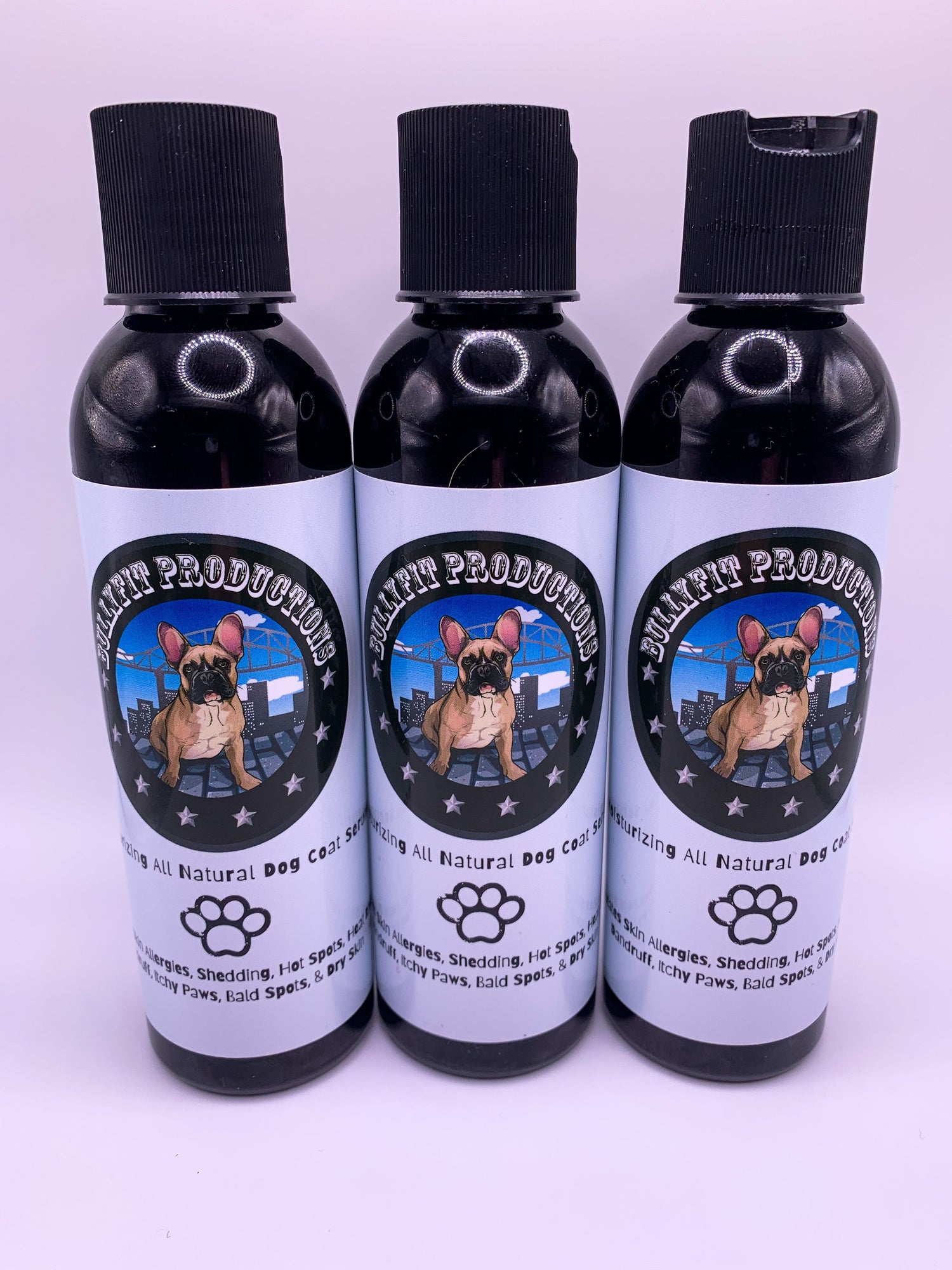 BF All Natural Skin & Coat Serum Application Directions
Apply quarter size amount please refer to our dog size chart below, then begin applying the serum to your dog's hair after shampoo & conditioner has been rinsed. Apply 1st layer of serum while wet. Do NOT rinse serum instead let serum soak into skin & coat. Let your dog dry about 90% and apply second serum layer. Begin brushing continuously until soaked up by skin & coat. Repeat as needed. Can also be applied to your pet while dry, in other words no bath required to use the serum. Recommended 3-4 times per week during shedding season.
1-2 times per week after shedding season. Shedding season starts (Fall) Month October. Shedding seasons ends around April. 
(Pregnant Dogs) Monday, Wednesday, Friday, Sunday.
Shop Now
BullyFIT All Natural Skin & Coat Application Dog size chart
Small Dog 1-2 quarter sizes
Medium size Dog 3-4 quarter sizes
Large Dog 5-8 quarter sizes
If Long Haired in any category 5-10 quarter sizes.
BullyFit Fitness Supplements
Sydnee's Pet Grooming Salon 1815 F S Centre City

Pkwy Escondido, CA 92025 (North County San Diego)

Top Dog Pet Store 15904 E Imperial Hwy La Mirada

The Bully Stop Shop 2201 Jacksboro Highway
Man Of Steel Petropolis 22 Shaw Ave

Clovis, California (Central Cal)

TopDog Pet Store 9932 Atlantic Ave South Gate

TopDog Pet Store 5507 Van Buran Blvd Riverside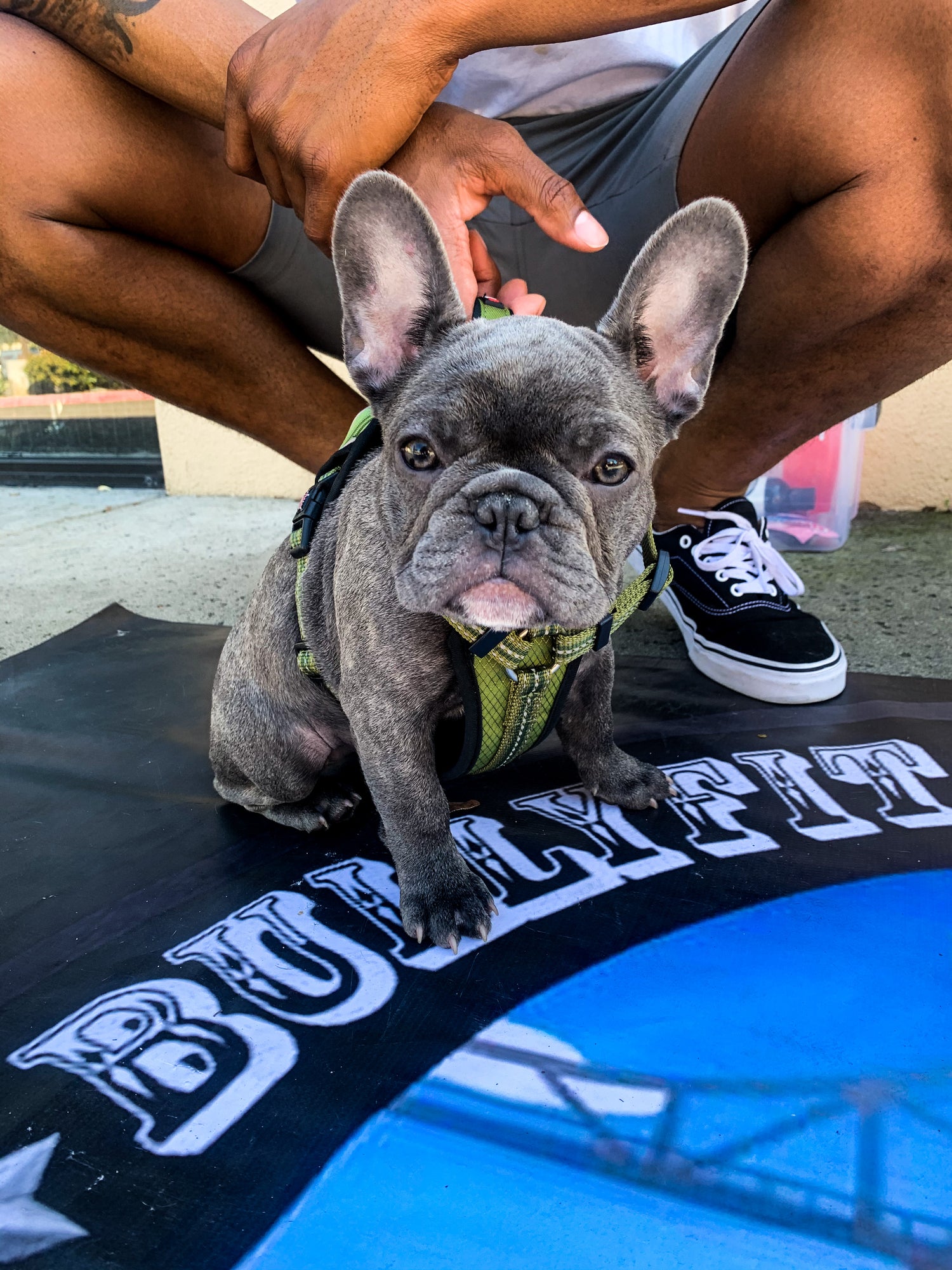 BullyFit Productions
Our love for dogs is what drove us to the creation of our All Natural Skin & Coat serum. We first applied the product to our frenchies because we noticed excessive shedding and skin allergies. We wanted a product we could apply directly on the dogs coat, we saw all the benefits from feeding our pups salmon oil and flax seed oil. Our goal was to not only work from the inside out but also from the outside in. Our serum is All Natural and approved for short, medium, & long haired dogs. We plan to have multiple business ventures all under the BullyFIT brand, that reflect our personal passions & lifestyle. BullyFIT has a couple different meanings; FIT for our love for fitness, health, and wellness. Out(FIT) for our love for fashion, art and creativity. As you all know we have a true love for the bully breed. BullyFIT is more than just a brand it's a lifestyle. Est 2020 🙏❤️
Skin & Coat Serum Reviews
⭐⭐⭐⭐⭐

Hi i'm finally tried your product sorry it took me a minute but I wanted to Check after a week what it did for my dogs coat!!! OMG I LOVE IT!! I would like to order the large one!

@Romansfrenchies

⭐⭐⭐⭐⭐

I have an 8 year old french bulldog that I've been struggling to keep coat nice. Thanks to Bullyfit, I no longer have that issue.

@frenchiholic

⭐⭐⭐⭐⭐

Hi friend! I wanted to tell you so far I absolutely LOVE the serum and so do my pups! Their coat is so soft and shiny after I put it on. I will definitely be ordering more in the near future🙌🏻❤️ Thanks again!!!

@ourfrenchiefarm

This stuff will be included in all of our puppy packages from now on! 

@bullyfame

⭐⭐⭐⭐⭐

Both my girls' coats have more shine and softness and smells pretty good 👍 Good job guys, my lady is a dog groomer so she liked it also! 

@oakhillsbullyz

⭐⭐⭐⭐⭐

Hey! Oh it's amazing🔥 thank you! It really works good I just showered the pups right now and letting them dry up so I can slap some more on today🙌🏻🙌🏻🙌🏻😁

@bee.dawgg

⭐⭐⭐⭐⭐

Thank you yea it works great! I use it once a week and it has my pups coats looking amazing! 🔥🔥🙏🏽

@bullyfame.us

⭐⭐⭐⭐⭐

It's the bomb, no cons. Her coat looks better & feels way better. She used to have little patches of hair gone from when she was having pups, GONE. Good food & the bullyfit serum fixed her up.

@monacodelgado
MULTIVITAMIN REVIEWS
⭐⭐⭐⭐⭐

Bro my dogs love the pills
I was having a hard time of them not wanting to eat there food but as soon as I powdered that pill over there food they went ham on it

@drew06sti

⭐⭐⭐⭐⭐

Good product! My dogs love it!

@calderonlife23

⭐⭐⭐⭐⭐

Ima need some more soon!

@rancholoschatos